TODDROSA OASIS CHARM JW 1 RCC
Sire: SHOW CHAMPION LINIRGOR TOMICH JW
Dam:  TODDROSA OASIS DREAM
Date of Birth:  25th September 2018
PRA1 & PRA2 Hereditary Clear
Eye Certificate:
Hips 3 – 3 ~ Elbows 2
DARCY
28th November 2021
Guildford & District Canine Society – Judge Ray Macdonald (Roanjora)
Darcy winning Best of Breed out of a lovely entry of over 50 goldens and then went on to be awarded Gundog Group 1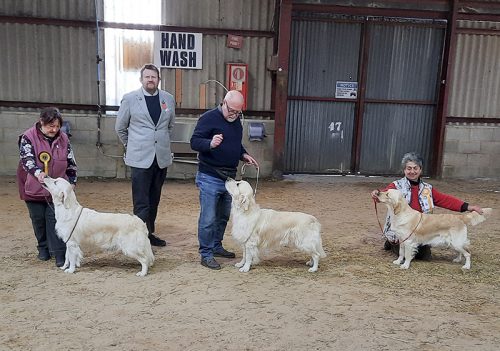 Darcy is the complete "showgirl".
She adores showing and has done very well in the showring.  She was very exuberant as a puppy in the ring so we didnt win that many classes but as she matured and settled she started to catch the judges' eyes.  By the time she was a year old it was apparent that we had a chance in gaining our Junior Warrant.  We trundled up and down the country to cram the shows in before she was 18 months old when the chance  of gaining a Junior Warrant ends.  We ended up needing one point on the last three shows booked before Darcy was 18 months old.  We attended a show in Maidstone just before "lockdown" and only four golden retrievers were present.  Darcy stood alone in her junior class, so no point to be gained there!.  When it came to the challenge for "Best of Breed" we were lucky enough to be awarded "Best of Breed" thereby gaining our final point needed to achieve the title "Junior Warrant".  The other two shows were cancelled due to the "Covid 19 Lockdown".  So we consider ourselves very lucky to have got that last point needed before the deadline.
There was a 15 month break from shows due to  Covid 19. Darcy came back into the showring as if she hadnt been away.  We have achieved quite a bit in the last few months and to top it all at the South Western Golden Retriever Club's Championship Show, held in corporation with the Paignton Championship Show, in August, she was awarded the "Reserve Challenge Certificate".
Darcy has a very good hip score of 3 -3, however the results of the elbow score was a 2 on the left elbow.  Darcy sustained an injury when she was a puppy on the left elbow and was on medication for a while and restricted exercise.  This was carefully managed when she was a youngster, we did not let her rush around with the others.  We feel that this injury has shown up on the x ray of her elbows, resulting in that score.  This will be taken very much into consideration if we decide to breed from Darcy.